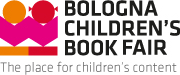 Giovedì scorso sono andata, per la prima volta nella mia vita, alla
Bologna Children's Book Fair
, il più importante evento internazionale dedicato ai libri per bambini e in particolare a quelli illustrati.
Si tratta di una fiera per professionisti del settore, infatti si tiene durante giorni lavorativi per scoraggiare i visitatori esterni, in più ha un biglietto d'ingresso piuttosto alto (quest'anno costava sui 30€, per fortuna io ho avuto delle agevolazioni in quanto iscritta ad una scuola d'arte). Partecipano soprattutto editori, scrittori e illustratori. Il BCBF per loro è anche un'occasione per aggiornarsi, nonché per cercare lavoro da una parte e nuovi talenti dall'altra.
Last Thursday I went, for the first time in my life, at the Bologna Children's Book Fair, the most important international event dedicated to children's books and in particular to the illustrated one.
It is an event targeted to professionals, it even takes place during working days to discourage external visitors, plus it has a rather high entrance fee (this year it costed about 30 €, luckily I had a discount because I'm an art school student). The event primarily involves publishers, writers and illustrators. The BCBF for them is also an occasion to stay up to date and to look for work on one side and for new talents on the other.
All'interno ci sono padiglioni con mostre di illustratori divise per settori, mostre di libri che hanno vinto i prestigiosi premi elargiti ogni tanto dalla BCBF, ma soprattutto stand di editori, negozi ed occasionalmente di qualche illustratore.
Le bancarelle servivano per vendere libri, ma a volte solo per sfogliarli e spesso avevano uno spazio per esaminare i portfolio degli aspiranti illustratori (molti sicuramente su appuntamento).
Inside there were halls with illustration exhibitions divided by sector, exhibitions of the books that h won the prestigious awards awarded every year by the BCBF, but, above all, stands of publishers, stores, and occasionally of some illustrator.
The stalls were used to sell books, but sometimes just to check them and often had a space to examine the aspiring illustrators' portfolio (most by appointment).
Questa è una piccola carrellata delle illustrazioni che mi sono piaciute di più: questa è tratta dal libro "L'onda" di Suzy Lee e faceva parte di una mostra dedicata agli illustratori celebri che hanno debuttato al BCBF.
This is a small overview of the illustrations that I liked more: this is from the book "Wave" by Suzy Lee and was part of an exhibition dedicated to famous illustrators who debuted at BCBF.
Questa invece era di Daniele Castellano ed era parte di una mostra sui nuovi orizzonti dell'illustrazione.
This, instead, was by Daniel Castellano and was part of an exhibition about the new horizons of illustration.
All'interno della mostra c'erano anche varie belle tavole di Junko Ogoshi.
In the exhibition there were also several beautiful tables by Junko Ogoshi.
Questa illustrazione di Roberto Innocenti ispirata a Cappuccetto Rosso faceva parte di una sezione sulle eccellenze italiane.
This illustration by Roberto Innocenti, inspired by Little Red Riding Hood, was part of a section about Italian excellences.