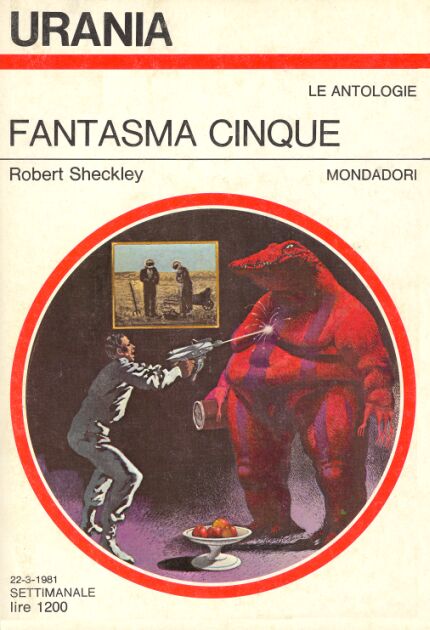 http://www.mondourania.com/urania/u861-880/urania880.htm
AAA Asso è una raccolta di racconti di Robert Sheckley, uno dei grandi scrittori del periodo classico della fantascienza statunitense. I racconti sono ambientati in un futuro in cui esiste la possibilità di viaggiare facilmente fra i pianeti e gli esseri umani stanno colonizzando la galassia. I protagonisti sono Gregor (il braccio) e Arnold (la mente), due amici che fondano una piccola agenzia di decontaminazione interplanetaria, un campo in cui c'è una concorrenza feroce. Per riuscire a sopravvivere devono accettare anche i casi più disperati, e, come se non bastasse, Arnold ha il vizio di uscirsene con trovate demenziali per diventare ricchi.
Ho letto altri due romanzi di Sheckley e mi sono fatta l'idea che l'autore dia il suo meglio nei racconti brevi. AAA Asso è una raccolta di trovate geniali che fa sbellicare dalle risate dall'inizio alla fine.
Consiglio moltissimo questi racconti, in particolare il primo, Fantasma Cinque, che è una vera chicca. Il problema sta nel trovarli: infatti sono stati pubblicati in varie raccolte di non ben chiara disponibilità e completezza.
AAA Ace is a collection of short stories by Robert Sheckley, one of the great writers of the classical period of United States science fiction. The stories are set in a future where it is possible to easily travel between the planets and humans are colonizing the galaxy. The protagonists are Gregor (the arm) and Arnold (the mind), two friends who founded a small agency of interplanetary decontamination, a field in which there is a fierce competition. In order to survive they have accept even the most desperate cases, and, as if that was not enough, Arnold has a habit of coming up with idiotic ideas to become rich.
I read two other novels Sheckley and I got the idea that the author gives his best in short stories. AAA Ace is a collection of brilliant ideas that make the reader laugh from the beginning to the end.
I highly recommend these stories, especially the first, Phantom Five, which is a real gem. The problem is to find them: in fact, they have been published in various collections of not very clear availability and completeness.