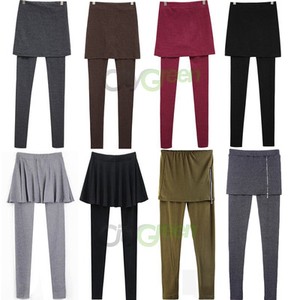 L'altro giorno sono passata da un negozietto piuttosto economico e ho visto un capo di vestiario inquietante: una gonna con attaccati dei leggings, a pezzo unico. Visto che questo posto ha un gusto un po'trash, ho liquidato la cosa in fretta, ma ora ho scoperto che un capo del genere c'è anche nella nuova collezione di Zara, quindi inizio a temere che sia una nuova moda.
I primi che ho visto erano costituiti da gonna di jeans e leggings di pizzo nero, per cui questo nuovo capo di vestiario non prevede una forzata uniformità fra gonna e leggings.
Adesso qualcuno mi spieghi che vantaggio dà il pezzo unico rispetto a gonna e leggings separati.
The other day I went to a fairly inexpensive shopand saw a disturbing piece of clothing: a skirt with built in leggings. Given that this place sells quite trash clothes, I dismissed it quickly, but now Idiscovered that there is a similar item in Zara's new collection, so I'm beginning to fear that it is a new trend.
The first ones I saw had a denim skirt and black lace leggings, so this thing doesn't imply a forced uniformity between skirt and leggings.
Someone can please explain to me what advantage does skirt leggings give over separate skirt and leggings?